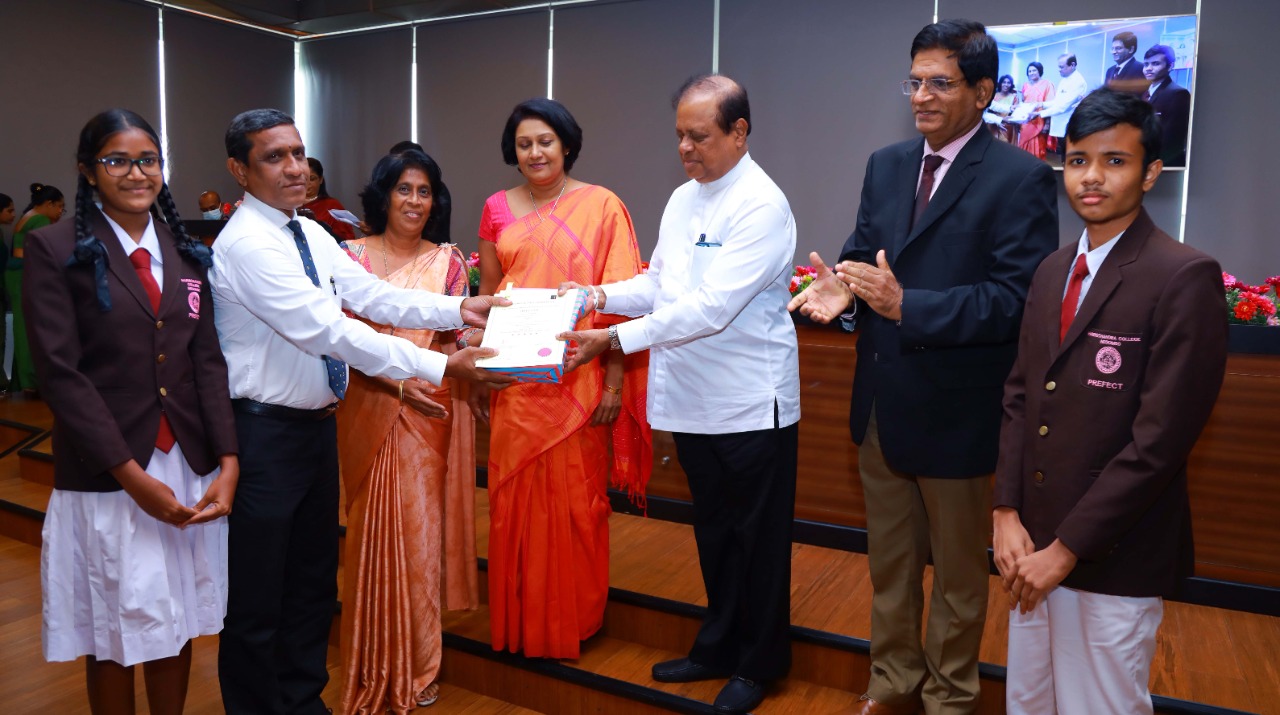 The National Science Day ceremony was held as a hybrid event on 10th November 2022 in the Auditorium of the Ministry of Education with the participation of Dr Susil Premajayantha, the Hon. Minister of Education, being the Chief Guest. The event was organized jointly by the National Science Foundation (NSF) and the Ministry of Education under the theme "Science for Sustainable Future, Global Trends with Local Blend". The aim was to popularize science among people specifically targeting the school community. Mrs. Deepa Liyanage, the Additional Secretary of Development of the Ministry of Education, Institutional Heads of S&T Institutes under the Ministry of Education, Scientists and few award winners participated in the event. Around 1500 participants including the awards winners of the Science Research Project Competition (SRPC) 2020/21, Kids Naturalist 2022, parents, teachers, students, and scientists connected online via Zoom and YouTtube.
Mr P.M Dharmatilake, Director General, Research Division of the Research & Innovation Sector, Ministry of Education welcomed the audience. Prof. Ranjith Senarathne, Chairman of the National Science Foundation made the introductory remarks. He emphasized the importance of S&T in solving economic problems and the efforts of NSF in providing its maximum support to showcase born talents and skills of school children which is second to none. Dr Jayantha Wattavidanage/Chairman of the NSF Working Committee on Science Popularization addressed the gathering on the topic "Empowering Young Minds in Science". Prof. Pradeepa Bandaranayake of the University of Peradeniya and Dr P.B. Dharamasena, Visiting Lecturer/ Rajarata University of Sri Lanka were the keynote speakers.
Two special NSF life-time awards were conferred to Mr Asoka De Silva and Mr Thusitha Malalasekara acknowledging their outstanding and longtime contribution to popularize science among citizens of Sri Lanka. The teachers who have made contributions in science popularization in the school community were also recognized at this event. Accordingly, Certificate of Appreciation was received by Ms Tekla Manoja Sudarshani of Tangalle Girls' College while Mrs Chamari Tharangika Colambage, of Kegalle St Mary's College and Mr Selvaraj Thevakumara of Paddirippu Maha Vidyalaya received Certificates of Commendation. The NSF lifetime Teachers award for Science Popularization 2022 was received by Mrs Thushari Nelka Munasinghe of Harishchandra National School, Negombo. The School Science Society of Thurstan College, Colombo 07 won the 3 star certificate while BT/PD/ Paddiruppu MMV, Kaluwanchikudy received the 4-star certificate. The Harishchandra National School, Negombo won the 5-star award 2022.
The 50th issue of the Journal of the National Science Foundation (JNSF) and 'Science e-news' website was launched at the event.
Concluding the event, Dr Sepalika Sudasinghe, Director General of the National Science Foundation delivered vote of thanks.
Winners of the Kid Naturalist Programme - Click here
Winners of the Science Research Project Competition 2020/2021 - Click here
Watch National Science Day 2022 live recording