Technology Development and Innovation Division
"Driving the innovators to develop, assimilate and use technologies for wealth creation"
The Technology Development and Innovation Division was established in the NSF with a view to promoting technology developments, innovation & start-ups. The Division serves a large number of innovators across a wide range of population including state sector, non-state sector and individual inventors. Researchers & scientists from academia, research institutes as well as entrepreneurs and inventors have been our bestowed stakeholders. Our programmes/projects and activities are designed to foster innovation in all aspects of S&T. Division's ultimate objective is to contribute to wealth creation and thereby the economic growth of the country. This will bring R & D outputs beyond benchtop trials.
NSF Research, Development & Innovation Model (Lab to Market) 2024 and Beyond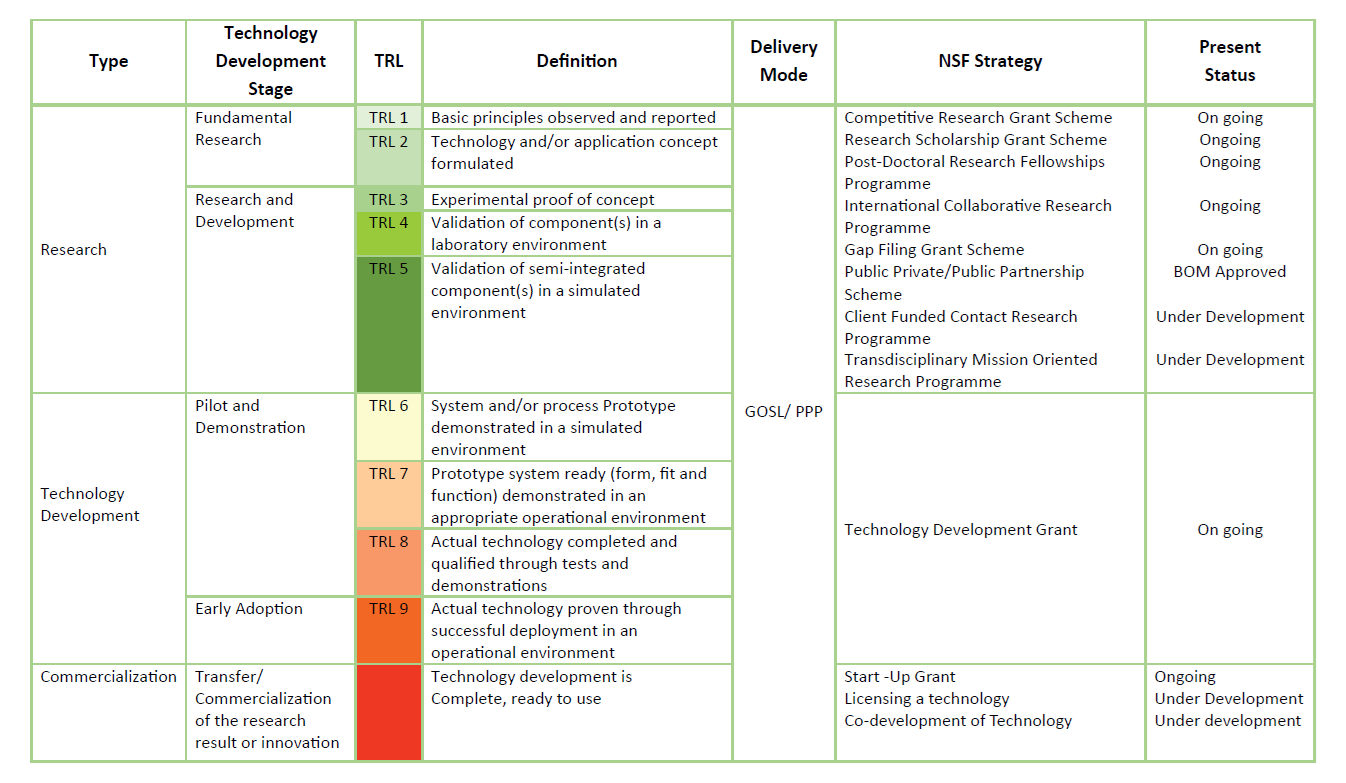 Research, Development & Innovation Plan 2024 Beyond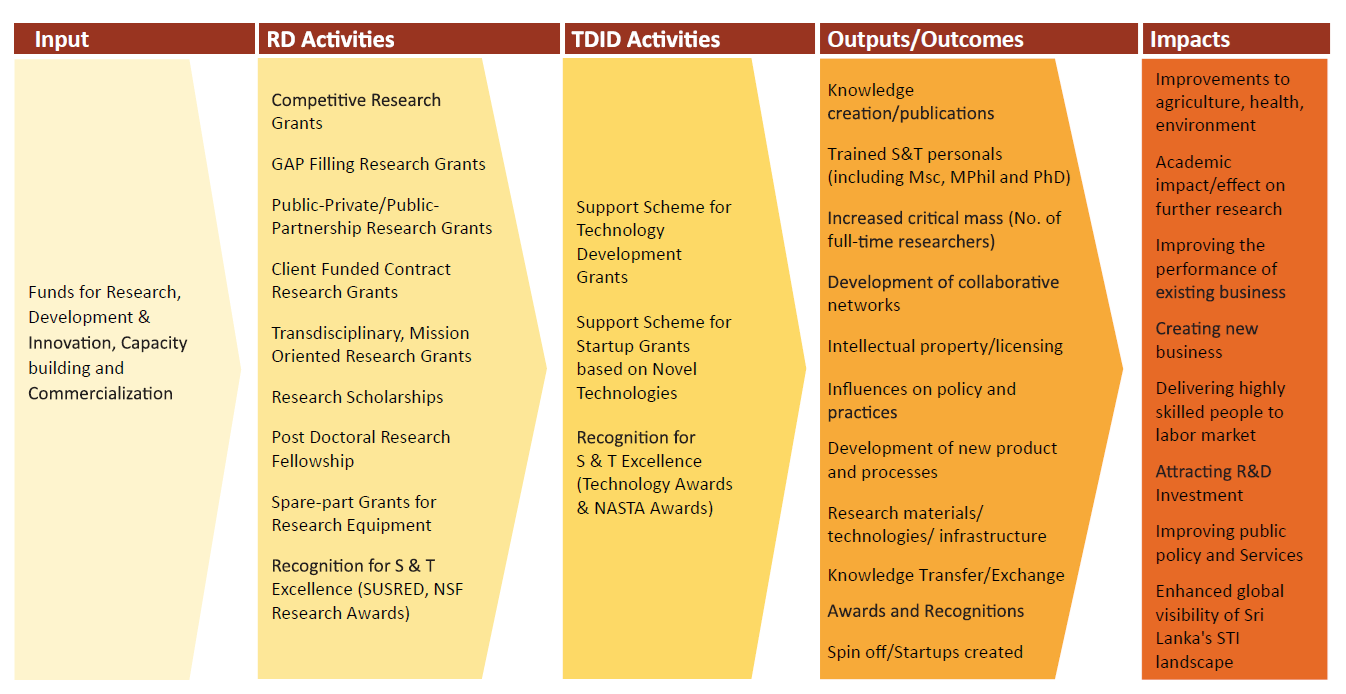 Key Activities/ Programmes
Support for Technology Development projects
This scheme aims at taking research outputs beyond laboratory scales by extending financial support to both state and non-state sector organizations to conduct projects that have potential for creating value. It also aims to strengthen capacity and capability of non-state sector companies (small, medium, and large) enabling them to conduct activities leading to producing locally, regionally, or globally competitive new materials, products, or devices, installing new processes, systems, and services, or to improving those of already produced or installed and become active partners in the innovation process. This scheme encourages regionally and globally competitive innovations. Read more
Support for Start-up businesses based on novel technologies
Facilitate TISC (Technology Innovation Support Centre) activities
National Award for Science & Technology Achievements Awards (NASTA)
Milestones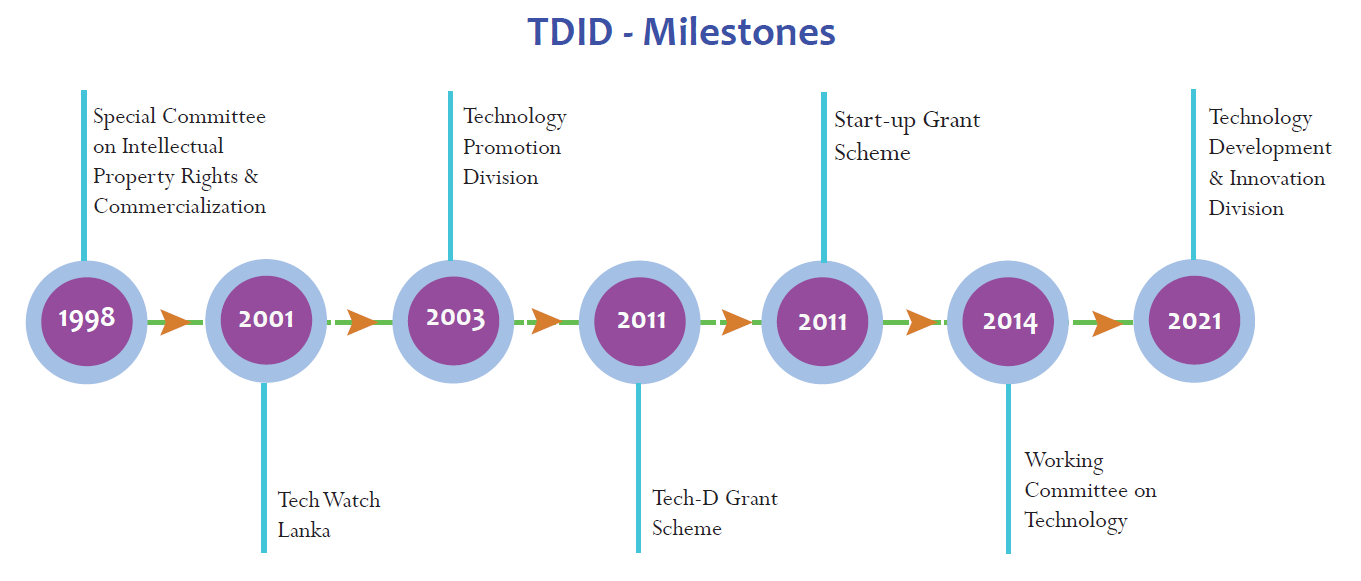 Committees
Technology Development and Innovations Arm
The Technology Development and Innovations Arm (TDIA) was set up at the National Science Foundation (NSF) due to the urgent need in the economy to address the scientific development pathway to economic prosperity. Read more
Principal Staff
Eng. T M R Dissanayake (Covering Head)
Principal Scientific Officer
Ext : 120
Mrs M S K Meneripitiya
Scientific Officer
Ext : 141